Investigating Revit features and workflows
We look across what's new, what's been around for a while, what maybe you didn't already know, and find things that can make quality of life for working in Revit better, while making you more productive.
SHARED VIEWS
When you work with an extended team, getting timely feedback can be important, but sometimes difficult. Shared Views in Revit can be used to help with this workflow. It is especially useful if the extended team does not have access to review the model directly in Revit. Instead, with a shared view, they can use the Autodesk Viewer to view and comment on a model in any browser on any device. You create the shard view and simply share a link with your extended team.
As an example, over the Christmas holiday we were talking with a close relative who wanted to do an addition to his house. We told him that we could work out some ideas for him to look at. He does not have Revit and he lives far away — Shared Views to the rescue! We worked up a couple of ideas for him sent the link. He was viewing on his phone minutes later
KEYNOTING
Back in the days of hand drafting — yes, we are that old! — we used to speed annotation along through the use of keynotes. It involved noting drawings with numbers, rather than text, and then adding a legend to the sheet that would have the text description associated with the numbers used on the labels. This made it easy to do all the hand lettering in one place. It could be a bit confusing because you needed match up the number with the text which could lead to errors.
Once CAD came around, placing text on drawings became much easier, so keynoting was not used as frequently.
Now in Revit, data can be associated directly with an element and then a tag can pull out and display the information. This gives us an opportunity to look at keynoting again. The keynote information is attached directly to families in your model and then the keynote tag pulls this information in annotated views. It does take some initial setup, but once in place, it can really increase your speed when annotating your model.
LAYING OUT SHEETS WITH GENERATIVE DESIGN IN REVIT
Is manually laying out sheets your favorite Revit activity? If so, this post is not for you.
Autodesk introduce a way to automate sheet layout with Generative Design in Revit.
Not a Dynamo guru? No worries—this process uses a prebuilt graph/study type. You can download it in the article, adapted from John Pierson's recent post for the Dynamo blog. Follow the steps with a sample model, and then try using the study type to make sheet layout smoother in your own projects.
CURTAIN WALL EDITING
Curtain walls are a part of almost every project. The curtain wall tool in Revit gives you powerful tools to create curtain walls. To get the most out of curtain walls in your projects you need to know how to edit them. Review our latest Have You tried article where we teach you about the primary components that make up a curtain wall and show you how to control each part.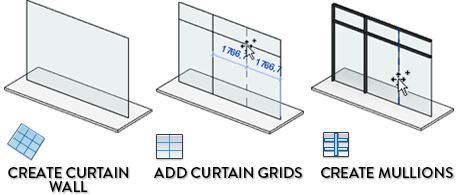 Check out our most recent article,  Have You Tried – Curtain Wall Editing.
SHARED PARAMETERS IN KEY SCHEDULES
Autodesk is talking about two tasty pieces of Revit 2022 that come together to save you time and keystrokes: shared parameters in key schedules. Both shared parameters and key schedules have been around for a long time individually in Revit, and both are extremely useful in planning project data and updating progress sets and deliverables. What can you do now that they are brought together?
Check out Have You Tried – Shared Parameters in Key Schedules for two examples of this new feature in action
Stay Tuned for the latest Revit Features!